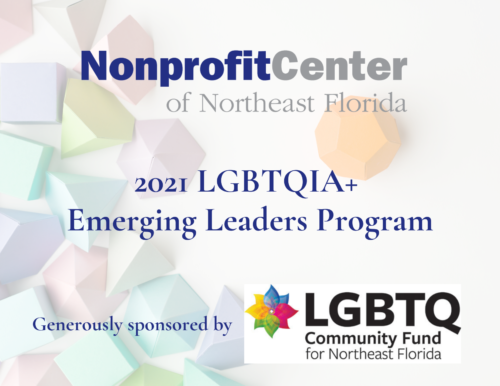 What is the LGBTQIA+ Emerging Leaders Program?
This program is designed to provide outstanding LGBTQIA+ individuals working in the nonprofit sector with access to social capital, leadership development, and network building to advance their careers. Our hope is that by providing these dynamic leaders with beneficial knowledge and support, the next wave of nonprofit leadership will more accurately reflect the diversity that makes our communities so vibrant.
Why is this program only open to the LGBTQIA+ community?
We know, and data shows, that there are systemic barriers in place that can prevent LGBTQIA+ individuals from achieving their full leadership potential in the workplace and in society as a whole. A study from UCLA's Williams Institute, funded by the LGBTQ Fund and released in 2018, found that three-quarters of LGBTIA+ respondents in Northeast Florida have experienced "everyday discrimination," such as being disrespected, threatened or harassed in the past 12 months.
This information, coupled with the Nonprofit Center's value of inclusivity, informs our approach to supporting underrepresented leadership in the nonprofit sector and addressing the infrastructure that enables inequality.
What happens in the LGBTQIA+ Emerging Leaders Program?
Taking place over 5 months, this program will:
Provide personal skills assessments, leadership skills trainings, and networking opportunities;
Celebrate and raise the visibility of LGBTQIA+ nonprofit sector leaders and their contributions to the community; and
Equip the Northeast Florida nonprofit sector with nonprofit leadership as current leadership retires.
The program will consist of eight mandatory virtual sessions:
August 12 (11:30am-12:30pm)
September 1 (9am-Noon)
September 16 (9am-Noon)
September 30 (9am-Noon)
October 12 (9am-Noon)
October 28 (9am-Noon)
November 10 (9am-Noon)
December 2 (9-10am)
As well as two optional in-person networking socials:
September 24 (11:30am-1pm)
October 22 (11:30am-1pm)
What are the requirements for participating?
Ten individuals will be selected for the 2021 program. Applications close on August 6. Criteria for participation includes:
Must identify as a member of the LGBTQIA+ community;
Must be employed by a nonprofit organization in Northeast Florida;
Must not currently be a nonprofit executive director or CEO;
Must be planning to stay employed by the sector and be interested in a leadership position; and
Must commit to attend all eight program days.
Please note: This program is designed to be accessible and open to all LGBTQIA+ individuals, regardless of their current degree of public identity disclosure in their life. Participants will have the opportunity to define their necessary visibility boundaries prior to the start of the program.
Please reach out to Issis Alvarez (IAlvarez@Nonprofitctr.org) with any questions, comments, or concerns.
Meet the 2021 LGBTQIA+ Emerging Leaders!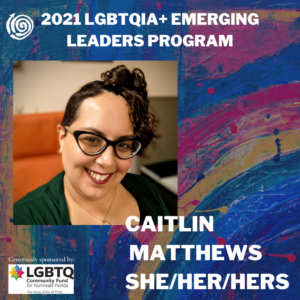 Caitlin began her activism work with the Gay Straight Alliance of the University of West Florida where she held several titles, including Advocacy Coordinator and Vice President. She helped to coordinate several initiatives including work to repeal Don't Ask, Don't Tell, and succeeded in having gender identity/presentation included in the campuses non-discrimination policy. Later, after moving to Orlando, FL, Caitlin became a founding member of the member congress of QLatinx, a grassroots racial, social, and gender justice organization dedicated to the advancement and empowerment of Central Florida's LGBTQ+ Latinx community, which was founded in response to the Pulse nightclub shooting. Currently, Caitlin works as a Family Advocate at the Hubbard House Domestic Violence shelter, where she works with children affected by domestic violence. Caitlin is appreciative to the Nonprofit Center of Northeast Florida for the chance to be a part of the 2021 LGBTQIA+ Emerging Leaders Program.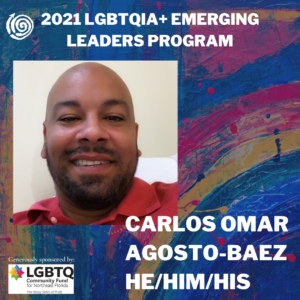 Carlos Agosto-Baez, is a Digital Analyst for Florida Blue Digital Transformation Department.  He manages issues related to the digital customer experience.  He was born in Puerto Rico and lived there until he was 13 years old when he moved to Hammonton, New Jersey. He graduated from Hammonton High School and soon began working as an International Flight Attendant for American Airlines where he had the chance to see most of the world.  In 2004, he joined the United States Navy where he served for ten years and was deployed overseas. In 2014, he worked at Baptist Health System Jacksonville and was involved in helping create Baptist LGBTQ ERG.  In 2018, he made the life changing decision and started working at Florida Blue, where he joined the RESPECT Board and serves as the Vice-Chair. He has a Bachelor's from Columbia College in General Studies with a minor in Education, a Master's in Health Administration and Business Administration from Webster University. Also, a Master's Level Certificate in Cybersecurity. He is also certified as, LSC Green Belt, Dignity Model Certified Provider, and Certified Scrum Product Owner.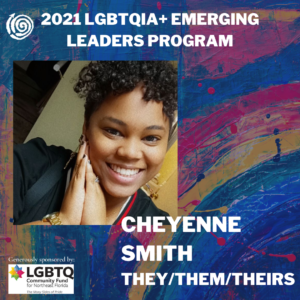 Cheyenne was born in Illinois, raised in South Florida, and is now living in Jacksonville. Cheyenne obtained their degree in psychology with a minor in leadership at the University of North Florida. During their time at UNF, Cheyenne was the Vice President of Pride Club, the lead organizer of queer prom, and an honorable UNF Presidential Envoy. They are also the secretary of JASMYN Jax's Youth Advisory Board and received the Youth Voice for Equality Award at the 2021 Jacksonville Gala.
Cheyenne is an established champion for BIPOC and LGBTQ+ equality. As a seasoned Field and Advocacy Intern, they are passionate about restructuring the biased mental framework in today's cis, white, and heteronormative society. For example, they organized the Jacksonville Protect Trans Youth Rally in Summer 2021. In addition to LGBTQ+ Advocacy with Equality Florida, they are also involved as a member of the Nonprofit Center for Northeast Florida's LGBTQIA+ Emerging Leaders 2021 cohort, Florida Rising's Project Power 2021 cohort, and as JASMYN'S LGBTQIA+ Housing & Care Coordinator via National Health Corps Americorps. Outside of the office, Cheyenne plays video games, reads, dances, and gives their cats and partner lots of love!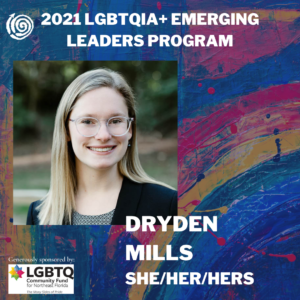 Dryden Mills (she/her/hers) works at the Jacksonville Public Education Fund (JPEF) as the Senior Associate: Initiatives, Partnerships, and Advocacy. She was born in Jacksonville and grew up between Jacksonville and Tallahassee, Florida. After graduating high school, she moved across the country to take on a new challenge at the University of Colorado Boulder. She found a passion for grassroots organizing and nonprofit work during her time in Colorado where she worked to register young voters and get fellow students excited about and invested in the political process. Eventually, she found herself missing home, and decided to take her new found passion and skills to better her community in Jacksonville. 
In her work at JPEF she wears many hats, serving as a project manager, event coordinator, and advocacy leader. She loves working on a close-knit team to help close opportunity gaps in schools and build a stronger, more equitable school system in Duval County. In her free time, she loves going to the beach, playing guitar, reading, and binge-watching the newest Netflix shows. She lives in Riverside with her cat Zora.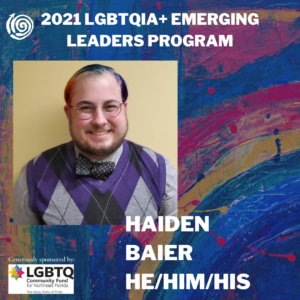 Haiden obtained his Masters of Social Work and Bachelors of Arts in Psychology from UNF and is currently a Register Clinical Social Worker Intern with the Osprey PERCH program. Haiden came out as a transgender man when he was 20 and found a family and home in the LGBTQ Center in his undergraduate career at UNF. He loves reading, learning new things, and his family. He wants to help LGBTQ youth navigate a world that isn't always for them through mental health, support, and community services as well as through his research.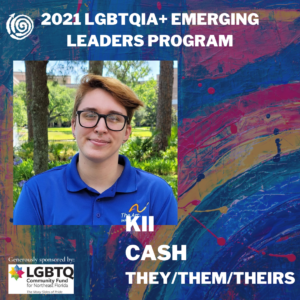 Kii currently works as the Educational Services Coordinator for the On Campus Transition program at the Arc Jacksonville. In this position, they oversee 29 young adults with intellectual and developmental disabilities in pursuit of a college experience and 18 AmeriCorps members who mentor them to become independent members of their community. Kii's undergraduate degree is in exceptional student education, and their master's degree is in disability services. Outside of work, Kii is an avid sewist and crafter and enjoys spending time with animals.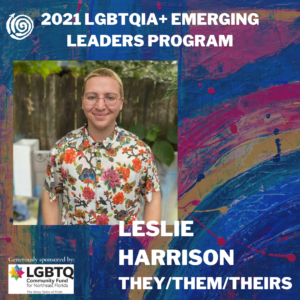 Leslie is from Jacksonville, FL, and is serving as the Development Associate at Feeding Northeast Florida, a local food bank. A recent graduate from the University of Florida receiving a B.S. in Plant Science with a specialization in Sustainable Crop Production, they are passionate about food justice and food sovereignty for all community members.  Leslie is excited to be a part of the Nonprofit Center of Northeast Florida's LGBTQIA+ Emerging Leaders and is looking forward to continuing to develop the skills and knowledge base they need to make positive impacts in their community.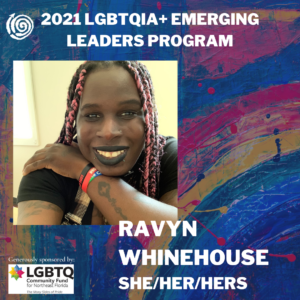 Ravyn is a black, educated, passionate, trans woman who strives to make a difference for her community every day. She is the HIV and Outreach Testing Specialist at JASMYN and also works with the Transgender Empowerment Alliance.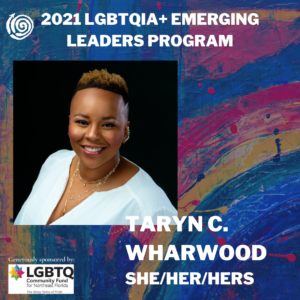 Taryn "LoveReigns" Wharwood is a poet, writer, author, emcee, motivational speaker, entrepreneur, and curator of Dopeness. Love, as she is affectionately called by many, is known for creating opportunities for performers, artists, and entertainers. She believes wholeheartedly that if she has a stage, everyone does! LoveReigns currently facilitates weekly workshops through Hope at Hand, Inc and is the host of The Random Thoughts of Reign Podcast. She is the founder and owner of IAmLoveReigns Enterprises LLC, a digital marketing agency committed to simplifying online branding and exposure for small to medium-sized businesses, artists, and entertainers. LoveReigns is truly in a lane of her own and isn't afraid to create another one if she has to.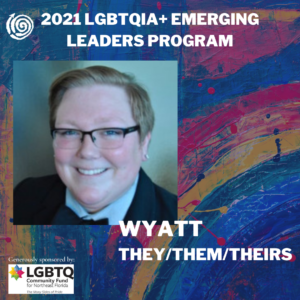 Wyatt (they/them) is City Year Jacksonville's Learning and Development Manager. Before joining City Year, they worked in a community nonprofit focused on substance abuse treatment. They served as an AmeriCorps Member and an Impact Manager before moving into the Learning and Development Manager role. 
As the Learning and Development Manager for City Year Jacksonville, their role influences all aspects of AmeriCorps Member training. They lead the creation, planning, and execution of role-specific training and professional and career development up to 100 AmeriCorps Members each year. Wyatt facilitates several AmeriCorps Member and Alumni-driven initiatives, including Corps Council, Alumni Board, and Diversity Council. These initiatives enhance AmeriCorps Member wellbeing and center equity in the AmeriCorps Member experience. Wyatt also creates differentiated leadership training for returning AmeriCorps Members who choose to serve a second year with City Year.