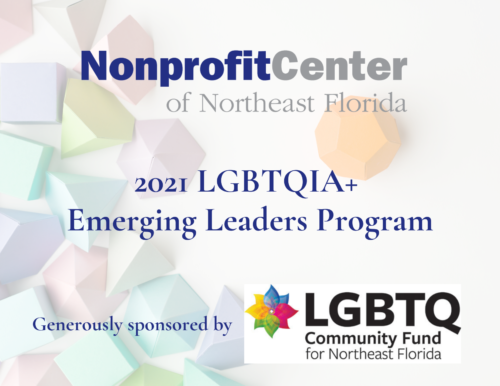 What is the LGBTQIA+ Emerging Leaders Program?
This program is designed to provide outstanding LGBTQIA+ individuals working in the nonprofit sector with access to social capital, leadership development, and network building to advance their careers. Our hope is that by providing these dynamic leaders with beneficial knowledge and support, the next wave of nonprofit leadership will more accurately reflect the diversity that makes our communities so vibrant.
Why is this program only open to the LGBTQIA+ community?
We know, and data shows, that there are systemic barriers in place that can prevent LGBTQIA+ individuals from achieving their full leadership potential in the workplace and in society as a whole. A study from UCLA's Williams Institute, funded by the LGBTQ Fund and released in 2018, found that three-quarters of LGBTIA+ respondents in Northeast Florida have experienced "everyday discrimination," such as being disrespected, threatened or harassed in the past 12 months.
This information, coupled with the Nonprofit Center's value of inclusivity, informs our approach to supporting underrepresented leadership in the nonprofit sector and addressing the infrastructure that enables inequality.
What happens in the LGBTQIA+ Emerging Leaders Program?
Taking place over 5 months, this program will:
Provide personal skills assessments, leadership skills trainings, and networking opportunities;
Celebrate and raise the visibility of LGBTQIA+ nonprofit sector leaders and their contributions to the community; and
Equip the Northeast Florida nonprofit sector with nonprofit leadership as current leadership retires.
The program will consist of eight mandatory virtual sessions:
August 12 (11:30am-12:30pm)
September 1 (9am-Noon)
September 16 (9am-Noon)
September 30 (9am-Noon)
October 12 (9am-Noon)
October 28 (9am-Noon)
November 10 (9am-Noon)
December 2 (9-10am)
As well as two optional in-person networking socials:
September 24 (11:30am-1pm)
October 22 (11:30am-1pm)
What are the requirements for participating?
Ten individuals will be selected for the 2021 program. Applications close on August 6. Criteria for participation includes:
Must identify as a member of the LGBTQIA+ community;
Must be employed by a nonprofit organization in Northeast Florida;
Must not currently be a nonprofit executive director or CEO;
Must be planning to stay employed by the sector and be interested in a leadership position; and
Must commit to attend all eight program days.
Please note: This program is designed to be accessible and open to all LGBTQIA+ individuals, regardless of their current degree of public identity disclosure in their life. Participants will have the opportunity to define their necessary visibility boundaries prior to the start of the program.
Please reach out to Issis Alvarez (IAlvarez@Nonprofitctr.org) with any questions, comments, or concerns.