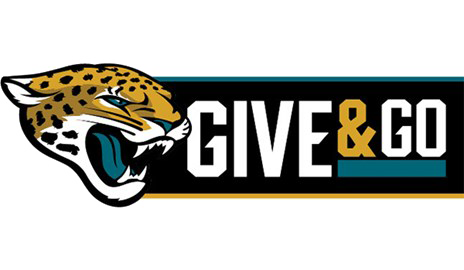 Be part of a terrific fund-raising opportunity for your nonprofit. The Nonprofit Center, the Jacksonville Jaguars, and The Jaguars Foundation are partnering to help nonprofits raise funds and the Jaguars sell tickets! It's called Give and Go. One Jaguars ticket = up to $30 for your nonprofit!
The Jaguars Give and Go Program is a fundraising opportunity for local 501(c)3 organizations in NE Florida to get into the excitement of attending a Jaguars home game and raise funds at the same time! The Jaguars are making game tickets available to charitable organizations to sell to the public at the nonprofit rate which is the best price the public can purchase single-game tickets.
HOW IT WORKS:
Nonprofits have access to the most affordable single game ticket in town - $40 and $50 depending on seat location - making it easy to sell, especially when folks know the purchase benefits your organization.
For the first 1 through 24 tickets you sell, your organization receives $10 per ticket. The Nonprofit Center will distribute this money monthly to your organization.
When you sell between 26 – 124 tickets, you earn $20 per ticket
When you sell ticket 125, your organization will receive an additional $10 per ticket for a total of $30 per ticket to bring your organization's total earnings to $3,750! This grant will be distributed to your organization at the end of football season..
For ticket 325 and beyond, your organization will receive $10 back per ticket.
Nonprofits can earn up to $30 back per ticket for their organization, by purchasing either of the packages below that include 125 tickets or more.
125 Ticket Level - Comp Tickets & Club Access Package
125 tickets at either $40 or $50 Level
Ten (10) Upper-Level seats with Club Passes to a mutually agreed upon game
Pregame tailgate option to a mutually agreed upon game featuring Lot V tent set up, two parking passes and a $125 Publix gift card (50 tickets must be assigned to tailgate game)
If opting out of the pregame tailgate, the Lot V tent, two (2) parking passes, and $125 Publix gift card will not be awarded
$3,750 back to your Non-Profit Organization (minus transaction fee)
QUESTIONS?
For registration support or general questions about the program, contact Meghan Kopitke at 904-415-1760 or mkopitke@NonprofitCtr.org.
For marketing materials or questions about seating assignments or game logistics, contact Kimberly Baker at 904-633-5439

or

bakerk@nfl.jaguars.com

.

For questions about your organization's donations, contact Darien Reynolds at 904-425-1935 or dreynolds@NonprofitCtr.org.
GIVE & GO HELP DOCUMENTS