**This workshop is part of our 2020 Organizational Leadership Series.
How a leader reacts to change can determine the organization's level of success during challenging times. This session will help participants learn how to navigate changes, stay ahead of trends, and take advantage of opportunities that can be born during these experiences.
Join Laura Steigelman, of Florida Training Solutions, who will lead this engaging workshop!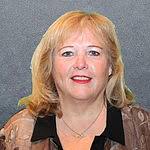 About Laura: Laura is President of Florida Training Solutions, a full service Training, Facilitation, and Management Consulting company started in 1994. She facilitates workshops on many topics including management, team-building, communication, time management, DiSC and customer service for both for profit and not for profit organizations.
Laura's clients include: The Community Foundation for Northeast Florida, Big Brothers Big Sisters, Women's Center, ElderSource, Wounded Warrior Project, Johnson and Johnson, AT&T, Tropicana, and more!
She is also an adjunct instructor for Webster University in their Masters Program and a Certified Career Coach for LHH, an international transition company.