Emotional Intelligence
Aug 03, 2021 9:00AM—12:00PM
Location
All events are currently planned for virtual format (zoom meeting) until further notice. You will receive additional instructions once you complete your registration. We cannot wait to see you in-person as soon as possible and safe to do so and we will update event locations as needed.
Cost $50 for members; $90 for non-members
Event Contact Issis Alvarez | Email
Categories High-Performing Leadership Teams
Topics CEO/Executive Leadership, Organizational Leadership Series, Virtual Events
**This workshop is part of our 2021 Organizational Leadership Series, to register for the full series click here.
What builds great and sustainable organizations?  Leaders with a high degree of business acumen AND emotional intelligence. Through this highly interactive, stimulating and insight-building workshop participants will identify strategies to positively direct EI awareness to not only manage their impact for more productive and influential relationships, but to create more emotionally intelligent teams.
Join Tammy L. Hodo Ph.D., of All Things Diverse, LLC, for this energizing and reflective workshop!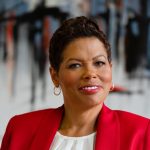 About Tammy: Tammy established her consulting practice to help organizations optimize employee productivity through recognizing the value of diversity, equity, and inclusion. She has worked with numerous local and national organizations to help them address issues of racial equity, homophobia, gender identity, expression, and fluidity. Tammy has also written course content on Implicit Biases and Microaggressions for a national educational vendor that is being used at hundreds of colleges and universities. She is a TEDx Jacksonville speaker where she discussed "The Social Implications of Race."  Her company conducts workplace climate surveys, policy audits and develops diversity programming based off organizational needs. Connect with Tammy on LinkedIn to learn more.
The Nonprofit Center believes that a High-Performing Leadership team is one of the four key elements of an effective, sustainable and adaptable organization. To learn more about The Nonprofit Center's Stronger Nonprofits Framework, click here.