Emotional Intelligence
Sep 15, 2020 9:00AM—12:00PM
Location
This event will be held virtually only. You will receive additional instructions once you complete your registration.
Cost $50 for members; $90 for non-members
Event Contact Callan Brown | Email
Topics Senior Leadership, Virtual Events
**This workshop is part of our 2020 Organizational Leadership Series.
Effective management includes coaching employees and preparing to have important, and sometimes difficult, conversations. This workshop will give participants skills to handle and resolve conflict, and have crucial conversations with direct reports, peers, and leaders in a way that encourages employee buy-in and sustains the team through times of transition.
Join Tammy L. Hodo Ph.D., of All Things Diverse, LLC, who will lead this informative and thought-provoking workshop!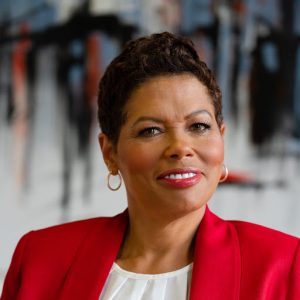 About Dr. Hodo: Tammy is the Founder and President of All Things Diverse LLC, a consulting practice she established because of personal experiences and the desire to educate others about diversity, inclusivity, and race relations. While serving in the United States Navy in San Diego, CA Tammy saw some racial incidents that were rather disheartening. Upon completing her military obligation, she opted to attend Albany State University, one of our nations great Historically Black Colleges and Universities (HBCU).  She obtained her Bachelor of Science Degree at ASU in Criminal Justice and immediately went on to obtain her Master of Public Administration, with a concentration in Government, from Columbus State University (CSU), which is a Predominately White Institution (PWI) of higher education.
Upon completing her master's degree, she worked for the federal and state governments for several years while traveling the world with her husband while he served in the military. After traveling abroad she enrolled and completed her Doctor of Philosophy (PhD) degree at the University of Wisconsin-Milwaukee, where she majored in Urban Studies and minored in Sociology. Serving as a Diversity, Equity and Inclusion Officer for a law school allowed Tammy opportunities to train legal professionals through Continuing Legal Education (CLEs) courses about Microaggressions and Implicit Bias. While in the role of a Diversity Officer she hosted forums and educated students about Islamophobia, homophobia, Anti-Semitism, racial and ethnicity related issues of concern.
Tammy is a TEDx Jacksonville (October 2019) speaker.  Her talk was entitled: "The Social Implications of Race" in which she traced the history of race in America. Tammy has written course content entitled " Implicit biases and Microaggressions Awareness on Campus" for a higher education vendor that is being used at hundreds of colleges/universities. She has spoken at numerous media outlets, colleges, and businesses. Her primary goal with All Things Diverse LLC is to educate organizations, students and the public at large about how to be aware and accepting of the differences that people bring to organizations, institutions and groups.