Happy Valentine's Day from the Nonprofit Center
Dear Nonprofit Leaders,
February is usually a festive month at the Nonprofit Center as we host our annual All-Member Gathering. In the past (or in the Before Times as our staff is now fond of saying), this event brought together nonprofit staff and board members from across the sector for a time of gratitude, networking, and fellowship. We have been fortunate to experience so many moments of joy at the All Member Gathering over the years.
Last year, one of our staff members was surprised with a singing telegram from the Big Orange Chorus. The year before, we participated in an activity where members shared gratitude for one another's programs, volunteers and staff, and services. Each year the event has grown. In addition to sharing resources with our members, one of the most important goals of the event is to make time for the first third of our mission, to Connect the local nonprofit sector.
All Member Gathering 2020
So much has changed since this time last year, but our love and appreciation for the work our nonprofit members do has not. This year, our CEO Rena Coughlin joined Melissa Ross on First Coast Connect to talk about nonprofit business impacts during the pandemic and to share our love and appreciation for the sector. Melissa encouraged listeners to send their own valentine to a local nonprofit by donating or giving a gift of time to their favorite organization. We hope that members of our community show their love to all of the amazing organizations throughout Northeast Florida.
While we could not be together this year, it is our sincere wish that you will still feel the love and find time to connect with the nonprofits in your personal and professional spheres. In recognition of the virtual and in-person work we are all putting in, here is a special Zoom background for you to use in your next meeting, because those don't seem to be going away anytime soon! It even comes with a built-in ice breaker question: "What is your favorite nonprofit"? We look forward to seeing you at the next virtual Nonprofit Center event!
Download our new Zoom background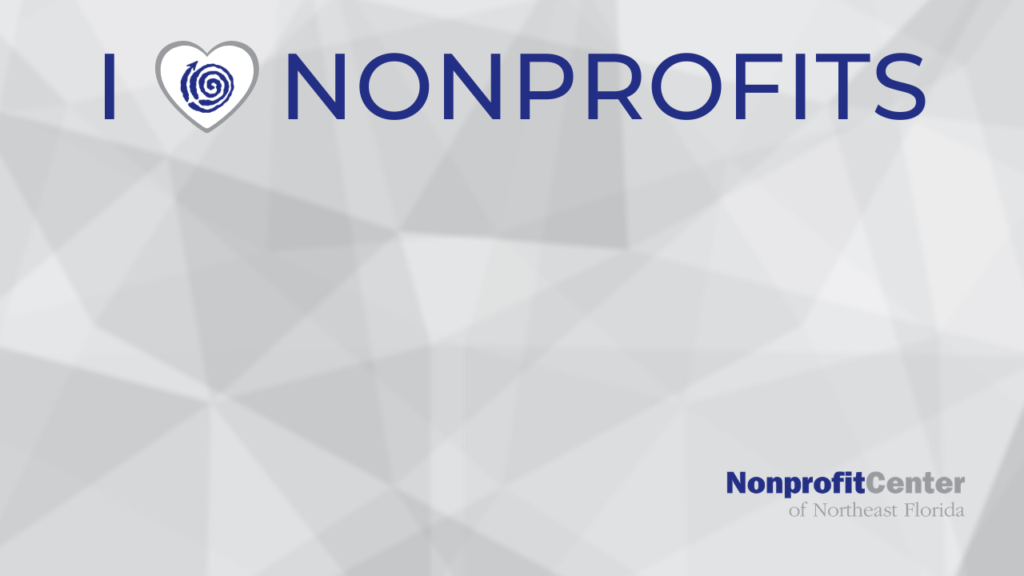 With love,
The Nonprofit Center Team
Rena, Kim, Deirdre, Darien, Issis, Callan, Anna, and Jaime