In 2020, MLK's "Other America" Still Exists
The Nonprofit Center is in solidarity with our community members who are taking a stand to make their voices heard against racism, violence, and discrimination. We hear you. We see you. We are with you.  

For far too long some members of our Northeast Florida community have not been heard; their voices were sometimes silenced in the name of consolidated progress, or were dismissed as isolated incidents of discrimination. Members of Black, immigrant, low-income, LGBTQIA+, differently abled, indigenous, Jewish and Muslim communities or multiple intersections of these communities must be given equal voice; Northeast Florida will not truly thrive when these voices are silenced or otherwise left unheard.   

The Nonprofit Center is one of many organizations that share space at The Jessie, a downtown building that was damaged during the protests this weekend. The good news is that it is only a window and the damage has already been boarded up. The work ahead for our communities is not so simple.  We urge leaders across Northeast Florida to begin earnest and good faith dialogue with the nonprofit and community leaders who represent those seeking change. Beyond dialogue, we urge action to begin repairing our communities.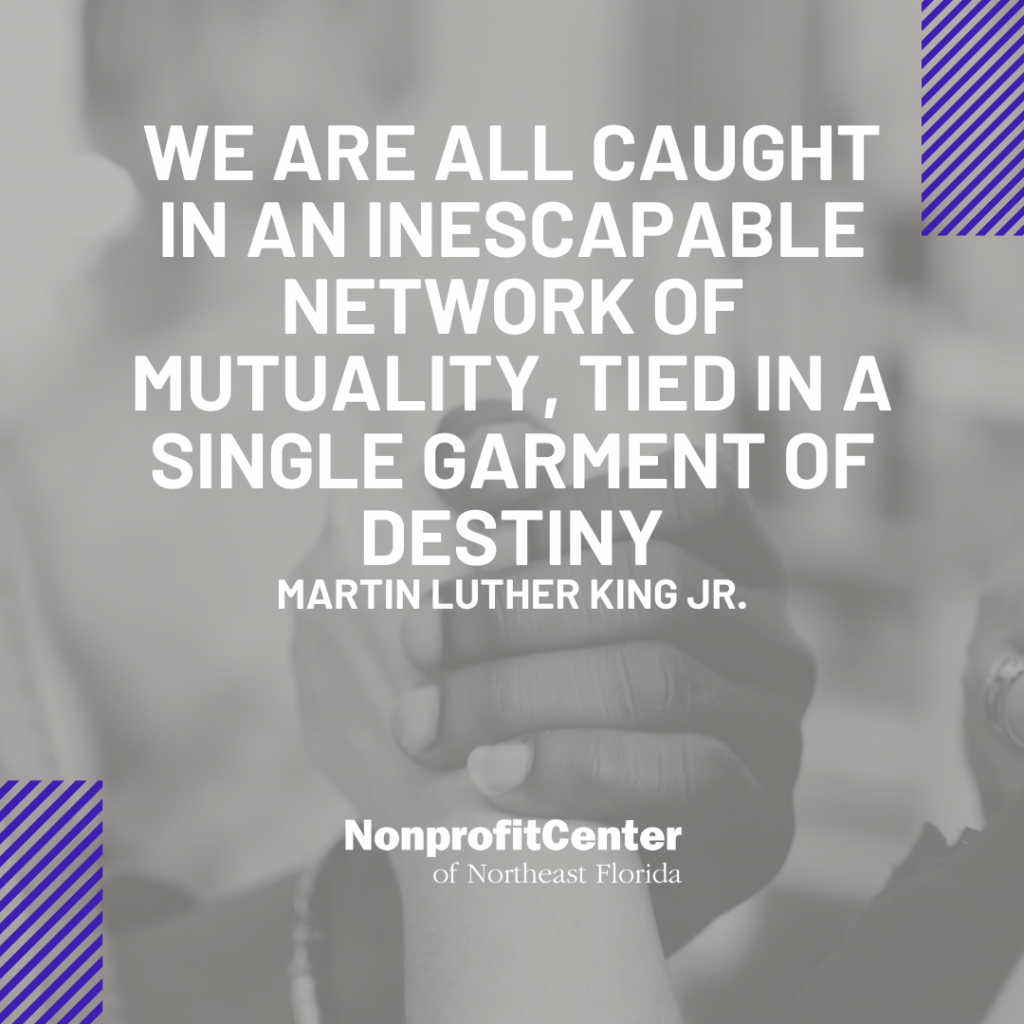 The Nonprofit Center is firm in our commitment to seeking a vibrant and inclusive Northeast Florida, and we remain focused on connecting, strengthening, and advocating for the Northeast Florida nonprofit sector, including many organizations advocating for equity and justice locally:

904Ward
Agency for Community Empowerment
Blessing Others All of the Time
CIL Jacksonville
Don't Miss a Beat
Historic Eastside Community Development Corporation
Fresh Ministries
Groundwork Jacksonville
Heart For Children
Jacksonville Community Action Coalition
Jacksonville Progressive Coalition
JASMYN
Families of Slain Children
Ritz Theatre
LISC Jacksonville
Lincolnville Museum and Cultural Center
MaliVai Washington Youth Foundation
Noah's Ark
Northeast Florida Community Action Agency
Northside Coalition of Jacksonville
Northwest Jacksonville Community Development Center
Sanctuary on 8th Street
The Way Free Medical Clinic, and so many more. 
Quote Source: Martin Luther King Jr. Other America speech, April, 1967.