Community Event: Tribute to Mike Clark: A Great Journalist
Apr 01, 2021 6:00PM—7:00PM
Location
Virtual event
Cost $10
Event Contact Erika Benton | Email
Categories Community Events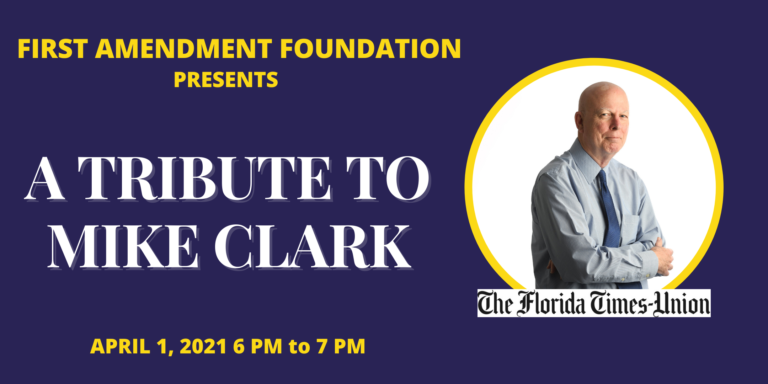 For almost a half century, Michael P. Clark served Jacksonville with outstanding journalism in service to our lives and governance. As the Florida Times-Union reader advocate for 15 years then as editorial page editor for 15 more, he inspired, provoked, and showed us how to work together in the public interest. Eschewing any political extreme or special interest, he favored optimism over pessimism, civility over attack, fairness over foulness, good news as well as bad, and always the interests of the ordinary person on the street. Mike retired in December, and now Jacksonville and Florida owe him the "cheer" he provided for worthy others on the Times-Union Opinion page.
On April 1, his admirers will hold a virtual celebration of Mike and his career. The event is a benefit for the First Amendment Foundation (FAF), which shares and advances Mike's commitment to open and transparent government via Florida's sunshine laws, which continue to be attacked across the state and annually in the Legislature.
Please join us virtually as we honor Mike's career and support the important work of the First Amendment Foundation.