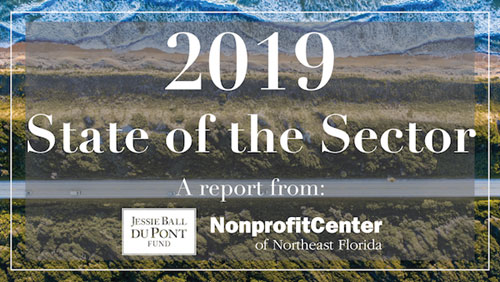 The 2019 version of the State of the Sector Report is the most comprehensive yet, finding the sector is diverse and growing but wrestling with the challenge of maintaining financial stability in an era of soft giving and structural change. The report was underwritten by the Jessie Ball duPont Fund and released by the Nonprofit Center of Northeast Florida.
Because of ever-improving access to data, the 2019 State of the Sector report provides a more detailed look at the sector than in prior years. The report includes detailed analyses of 21 different nonprofit fields, ranging from housing to health institutions to arts and culture.
If you have follow-up questions about the report or would like to schedule a presentation for your organization's staff team or Board of Directors, please contact Deirdre Conner at DConner@NonprofitCtr.org or 904-425-8758.
Click below to view the following:
Some of the report's key findings include:
The sector boasts aggregate revenues of $8.56 billion and employs 72,188 individuals, almost 13 percent of the region's total paid, private workforce.
The number of nonprofits reporting on the First Coast has grown incrementally in the last five years. In 2016, 1,320 nonprofits filed with the IRS. While 2017 filings are still incomplete, it is estimated that 1,350 or more nonprofits will file with the IRS for 2017.
Slightly more than one-third of area nonprofits operated in the red in recent years, spending more than they took in – an improvement since 2009. Recovery from the Great Recession is real, though some organizations with critical missions, such as those providing housing or services to seniors or youth, have not rebounded as well.
Charitable contributions are an important revenue stream for nonprofits, but the number of individual donors on the First Coast has declined significantly in the last decade: 29,000 fewer donors reported making charitable gifts in 2016 compared with 2007, a drop of 17 percent.
While charitable contributions are an important component of nonprofit revenue, many area nonprofits earn the majority of their income. Excluding the health institutions, 31.5 percent of the region's nonprofits earn more than half of their total income.
Religion-focused nonprofits – those whose primary mission is ministry and evangelism – comprise almost 10 percent of the region's nonprofits, reflecting the strong religious culture found in Northeast Florida. Statewide, only 8 percent of nonprofits are classified as having a religious mission, according to Guidestar.
Since 2004, the Nonprofit Center of Northeast Florida and the Jessie Ball duPont Fund have worked together to create quantitative analyses of Northeast Florida's nonprofit sector. These State of the Sector reports are intended to give the public, donors and funders, policy makers and nonprofits themselves, a richer understanding of this unique universe of organizations so important to the region's quality of life.