Trust: The nonprofit sector's superpower
If you've attended any of my presentations or trainings since I started working at the Nonprofit Center in 2017, you know that I find a way to slip my favorite data point into almost all of my slide decks: Nonprofits and individual volunteers are the most trusted institutions in our community to take action on issues that matter to our quality of life. Here's the slide: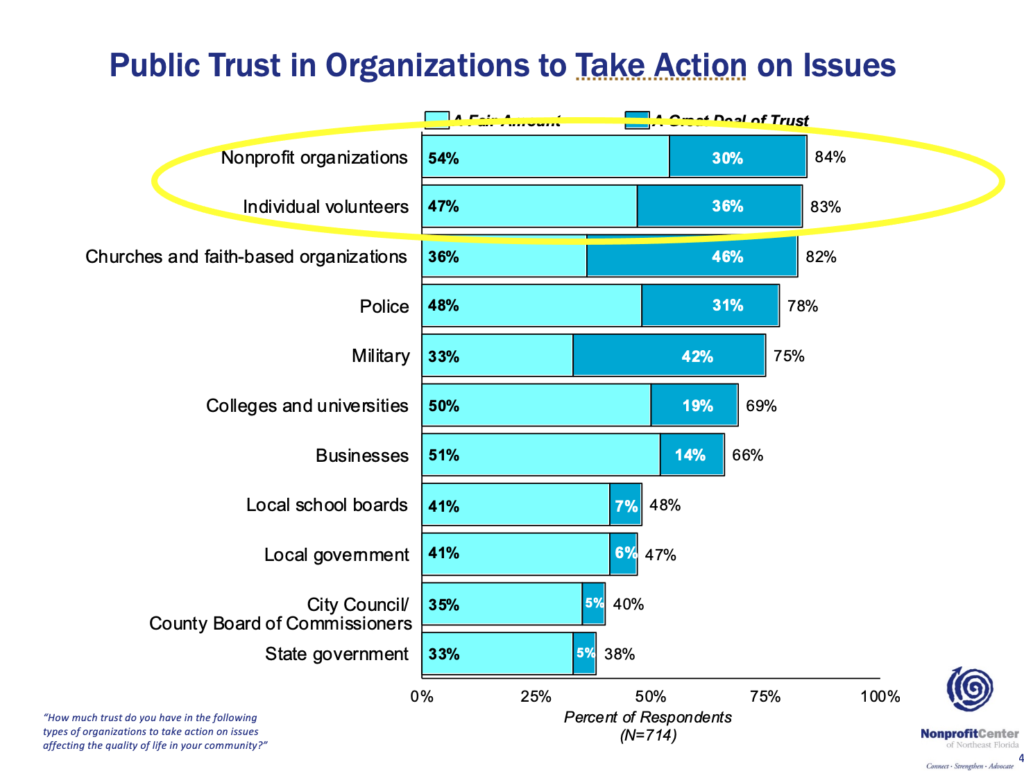 This information comes from a poll conducted by the Nonprofit Center nearly 10 years ago, but recently released national data backs it up. Independent Sector, a national organization that works with nonprofits, philanthropy, business, and government to strengthen civil society, published research in the summer on public trust of the nonprofit sector. "The public's belief that nonprofits will 'do the right thing' is one of the central reasons the sector exists," the organization writes in its report.
Trust in American institution is low and getting lower, and the Independent Sector research found that only nonprofits are the most trusted institution nationwide. In fact, nonprofits, small businesses, and local community members are the only institutions trusted by a majority or near-majority of the public.
Some of the reason for high trust in nonprofits included:
• Belief in nonprofit's mission;
• Perceived altruistic motivations;
• Personal experiences / ties to nonprofits;
• Aware of organizations with a proven track record; and
• Regulated and held accountable by government.
Amidst this good news, there is also evidence for work to be done. There was a small but statistically significant decline in trust of nonprofits (just as with declines across all institutions), and many in Generation Z still have unformed opinions of the nonprofit sector. Importantly, the report found that people who were engaged with local nonprofits were even more successful in fostering high levels of trust.
Check out the report to find specific insights on what nonprofits can do to increase trust. And let us know how the Nonprofit Center can help!
I'm excited to say that the Nonprofit Center will have the opportunity this fall to measure perceptions of the Northeast Florida nonprofit sector again this fall, and provide you with tools to leverage trust in local nonprofits. We will be releasing a public attitudes survey in conjunction with our 20th Anniversary Celebrate the Sector initiative. Make sure to register for the October 20 breakfast event where it will be released. We can't wait to see you then!
— Deirdre