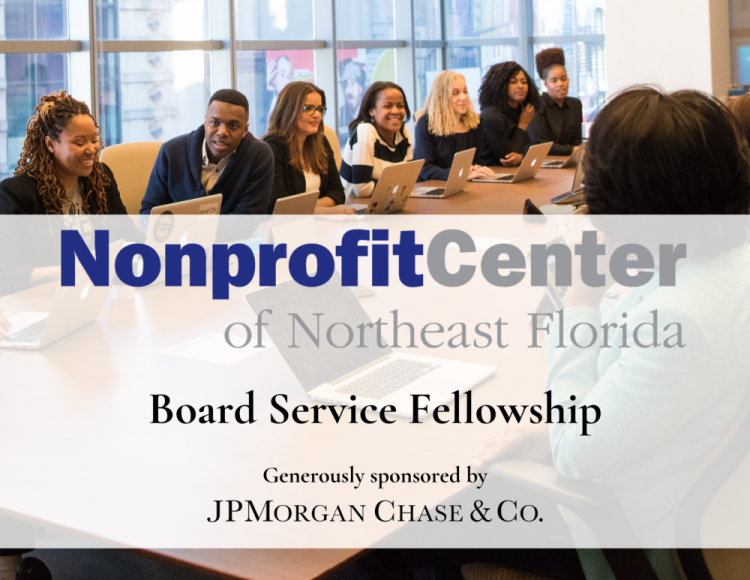 Nonprofit Center Board Service Fellowship
What is the Board Service Fellowship?
Behind every healthy and high-functioning nonprofit, there is a diverse and highly skilled Board of Directors.The Nonprofit Center Board Service Fellowship aims to build a talent pipeline that helps local nonprofits cultivate boards that reflect the diversity of their mission and their program participants. By offering this program, the Nonprofit Center will develop diverse and qualified candidates who are eager to become engaged in board service and will facilitate connections to nonprofit organizations through a matching process. 
Why does the Board Service Fellowship focus on diversity?
Finding and recruiting the right pool of board members plays a significant role in the sustainability of a nonprofit organization. Many organizations struggle to effectively recruit diverse pools of board members because they rely heavily on the social and professional networks of current board members to find new candidates.
Significant research shows that composing a diverse board is crucial for the long-term success of organizations. Diversity is often reduced to singular factors, such as race or ethnicity, but is much more complex and layered. A truly diverse board should contain not only a mix of racial and ethnic backgrounds, but also diversity of experience, ability, social identity, connection to community, leadership style, and diversity of thought and background. The Nonprofit Center believes that board diversity is a crucial issue for local nonprofits to address.
What happens in the Board Service Fellowship?
The program will consist of three mandatory sessions (small breaks and lunch provided) and will take place in-person at The Jessie:
Tuesday, January 24, 2023 - 9:30 a.m. - 3:30 p.m.
Tuesday, February 21, 2023 - 9:30 a.m. - 3:30 p.m.
Tuesday, March 21, 2023 - 9:30 a.m. - 3:30 p.m.
Applications for the 2023 Fellows Cohort are closed. Please contact Callan Brown, Senior Director of Programs, at CBrown@NonprofitCtr.org for more info.
Are you a nonprofit organization interested in hosting a Board Service Fellow for the 2023 cohort?
Meet the 2023 Board Service Fellows!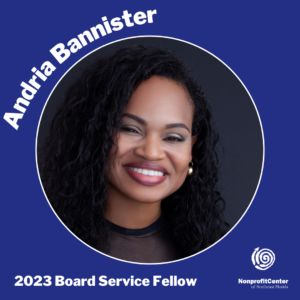 Andria Sherry Bannister was born and raised on the beautiful island of St. Thomas in the United States Virgin Islands. At an early age, her parents instilled in her the importance of being disciplined and of being integrity driven in all aspects of life. She holds a Master's degree in International Business and Juris Doctorate. She has spent much of her adult life working in public service with Duval County Schools, the Florida House of Representatives, and the Department of Juvenile Justice. Presently, Andria works for Partnership for Child Health as the Director of the Building a Resilient Jacksonville System of Care. Andria is a lover of the arts, particularly dance in many forms including ballet, hip-hop, and Latin. She has participated as a volunteer locally, mentoring for Generation WOW, Take Stock in Children, and other
local programs. Andria is happiest when she is serving her community, particularly the youths.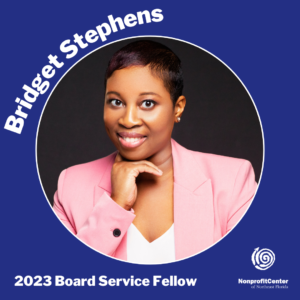 A native of Bainbridge, GA who has worked in education for nearly 8 years, Bridget Stephens is a passionate educator committed to equity and social justice. Bridget currently serves as the Instructional Coach at City Year Jacksonville. Prior to her current role, Bridget had the honor of teaching high schoolers as an ELA teacher for 4 years--showing students the power literature has for them to see their own identities reflected, learn and appreciate the experiences and humanity of others and think critically about the events happening around and to them. Driven by these same ideals, Bridget assists in leading diversity, belonging, inclusion, and equity work at City Year as well as helping co-create a culture of continuous learning and practitioner skill development as the Instructional Coach. Bridget earned her B.A. degree in English Literature and Language from "the University by the Sea"— Savannah State University. She is a member of the Jacksonville Public Education Fund Ignite Young Professional Group, City Year National Equity Advisory Council, and a member of Alpha Kappa Alpha Sorority Incorporated. In Bridget's spare time, she can be found reading, traveling to music concerts, spending time with family, and attempting to keep her plants alive. She is resolute in being a part of creating equitable and accessible educational opportunities for students to thrive in their full academic, social, and emotional potential.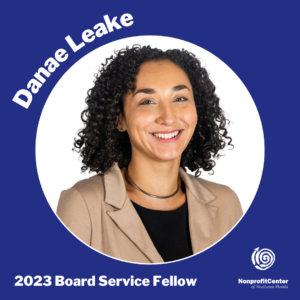 Danae Leake is the Marketing and Communications Manager at Lutheran Social Services of Northeast Florida. In her role, she and her team promote the LSS vision of serving communities in need through storytelling and digital marketing practices. She has worked in the digital media industry for 10 years, and has worked in award-winning newsrooms and publishing companies such as Action News Jax and The Advocate. Outside of work, she is the president of the Global Shapers Community Jacksonville Hub, and serves on the food systems committee of the Blue Zones Project in Jacksonville. She holds a Bachelor of Arts in English and Mass Communications from the University of North Florida. In her spare time, Danae enjoys playing sports like pickleball, and hanging out with family and friends.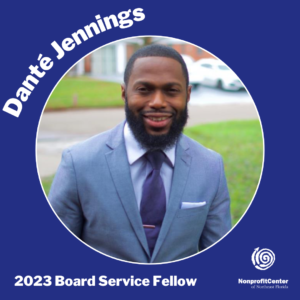 As a dynamic academic Dante currently leads the strategic initiatives as Director at the Jacksonville Public Education Fund. Prior to accepting his current role, Dante was a district math specialist for two years overseeing 5 of Duval County Public Schools historically underperforming middle schools. During his time in the classroom, he was recognized as Jean Ribault Middle School 2017 Teacher of the Year. Following, the Jacksonville Public Education Fund awarded Dante with a scholarship to pursue a graduate degree with the purpose of increasing diversity in school leadership. With nearly 8 year of education experience ranging from mathematic instructor to district executive, Dante has expertise in data analysis, administration, and resource allocations. Dante also leads community advocacy efforts through his work in the nonprofit sector having served as President of the Jacksonville Urban League Young Professionals and board member to the Jacksonville Urban League. As a member of the local chapter of Omega Psi Fraternity Incorporated, he has served as keeper of Finance, mentor, and fundraising chair. Dante was recently inducted into the Tallahassee chapter of New Leaders Council. He earned his B.S. degree in Criminal Justice from Florida International University and holds a MA in Organizational Leadership from Columbia University, Teachers College in New York City. In 2020 he was awarded the Minority Fellowship from Jacksonville University's Minority Board of Directors where he is pursuing a MA in Public Policy. Danté is an avid reader and mindfulness practitioner who also enjoys travel and music related events.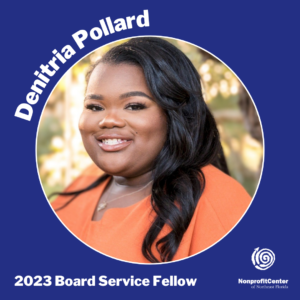 Denitria Pollard is originally from Augusta, Georgia. She has spent over 13 years working with healthcare and nonprofit organizations. She is a graduate of Georgia Southern University where she obtained her Bachelor's Degree in Therapeutic Recreation and a minor in Child and Family Development. Upon graduation she moved to Jacksonville and worked at Brooks Rehabilitation Hospital, where she served as a Recreational Therapist for patients who suffered from stroke, spinal cord and brain injuries. She later obtained her Master's Degree in Public Administration with a concentration in Nonprofit Management from the University of North Florida. Denitria currently serves as the Activities Director at Westminster Communities of Florida. In addition to work, she has enjoyed volunteering with Big Brothers and Big Sisters of North East Florida and The Arc. Denitria has a passion for helping others and in her free time, she enjoys spending time with family and friends, going for walks with her pup, Brody James, reading, dancing, singing and traveling.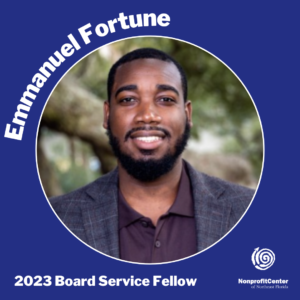 Emmanuel Fortune (he/him) is a Senior Talent Consultant at DRG. He partners with mission-driven leaders around the country to develop and implement the best strategies for growing their organizational capacity and to promote a thriving culture. Emmanuel comes to DRG with deep experience in program design, strategy development, group facilitation and coaching, as well as change management and organizational learning expertise. In his client work, his partners appreciate his balanced approached of analytical capacity paired with a growth mindset and a people-centered orientation to discovering solutions for organizational problems. Emmanuel previously served on the program leadership team at the Flamboyan Foundation in Washington D.C. where he supported entrepreneurs and grantee partners with strategic advising and philanthropic capital. He then spent several years at The Community Foundation for Northeast Florida investing in community initiatives. At Deloitte Consulting LLP, he supported influential firms such as Johnson & Johnson and Dell Computers. And he's been a part of mission-driven organizations such as Teach For America, Peer Forward (formerly College Summit), The Heinz Endowments and Innovation Works in Pittsburgh, PA. Emmanuel completed his undergraduate studies at the University of Florida and has his graduate degree in Policy, Organizational Behavior and Leadership from Stanford University. He currently serves on the board of Grove Collective Foundation, a social innovation and impact firm, and trains with the faculty of the Hoffman Institute. He is the proud life partner of Rachael Tutwiler Fortune and is a devoted father to their three children.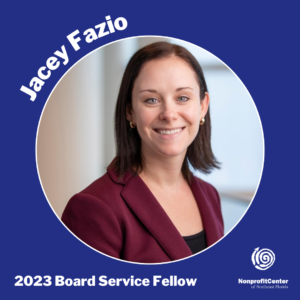 Jacey Fazio, MHA is the Director of Practice Transformation at Mayo Clinic in Florida, focusing on transforming inpatient care through digitalization and the integration of remote and in-person care models. Prior to this role, she was the Enterprise Operations Administrator for the Advanced Care at Home program, Mayo Clinic's offering of home hospital care to patients in three different Mayo Clinic markets. Previously, Jacey has managed operations of Primary Care at Mayo Clinic in Florida. Prior to her career at Mayo Clinic, she worked in several different industries to gain engineering experience, including family entertainment (The Walt Disney Company), aerospace (Gulfstream), and manufacturing. She received her Master of Health Administration from the University of North Carolina in 2016 and her Bachelor of Science in Industrial Engineering from Clemson University. She has a passion for continuous improvement in the healthcare environment, as well as, using innovative technology to change the healthcare experience for all patients.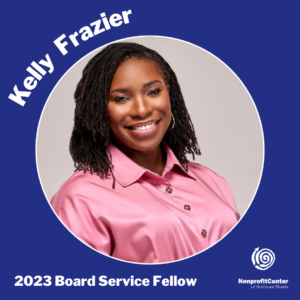 Kelly Frazier, is a graduate of Florida Agricultural and Mechanical University, where she received her bachelor of arts degree in Political Science with a concentration in Pre-Law. Since college, she has volunteered a considerable amount of time towards programs aimed at teaching young girls life skills, etiquette, group skills, and dancing. She has also played a very significant role in creating and organizing fundraising ideas for community programs. She has over 15 years of experience in customer service, which allows her to listen, understand and produce results in task-oriented positions. Kelly is a proud member of Alpha Kappa Alpha, Sorority Inc., and has served on numerous community outreach initiatives.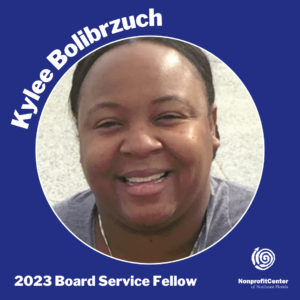 Kylee Bolibrzuch enlisted in the U.S. Navy in October 1998 and retired after 20 years of honorable service in October 2018. She has a Bachelor of Science in psychology from Excelsior College and she is a graduate of the University of Louisville with a Master of Science of Social Work. Her distinguished career included six overseas deployments with her finalizing her career as the Career Information Program Manager/Navy Career Counselor for Patrol Squadron Two Six in Jacksonville, Florida. Mrs. Bolibrzuch's mental health experience includes providing individual/group psychotherapy, case management, educational training and crisis intervention working with children, adolescents, adults and families as a School Social Worker with Duval County Unified School District and an Outpatient Clinical Mental Health Counselor with Children's Home Society of Florida and Chrysalis Health. Mrs. Bolibrzuch is skilled in military social work and trauma informed care with a focus on empowering individuals to realize their true potential, while bringing an additional skillset and resources as the Mental Health Director at Five Star Veterans Center.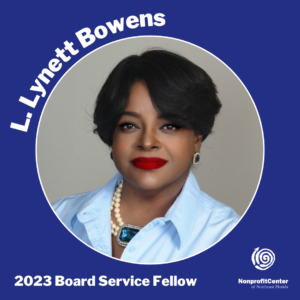 Lula Bowens has been in the Insurance sector for the financial industry for 25 years. During this time, she obtained her Health, Life and Variable Annuities license. She has a heart for people and loves to help anyone within her power. Besides working in the financial industry, Lula is a published author.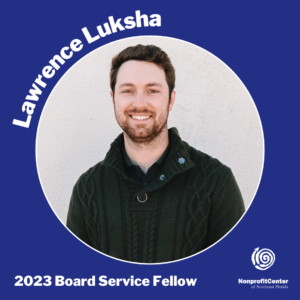 Lawrence Luksha works in Government Relations and Business Development for Veritec Solutions, a Catalis company. In this role, he helps regulators protect consumers and promote healthy markets. Lawrence is the Founder of the Young Professionals Delegation, a group of young professional groups aimed to increase civic engagement in the younger generations. He holds a BA in History and Political Science from the University of North Florida.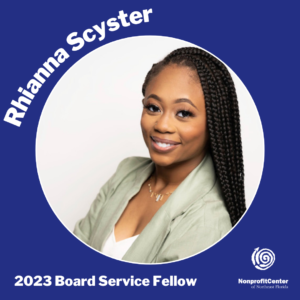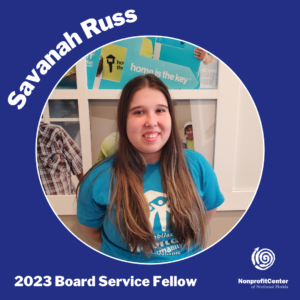 Savanah is a Family Services Specialist with Habitat for Humanity, Jacksonville. She loves making a difference in her new hometown of Jacksonville and getting to interact with the families that she serves. Currently, Savanah is in her final semester of college where she is earning her degree in Paralegal Studies. During her time in college, she worked as the Head Paralegal for the Student Legal Services and as a runner for a local law firm. Savanah loves traveling and has visited 30 countries so far. She has even volunteered in 6 of them! She hopes that in the future she can work for a nonprofit in Singapore, the country where she grew up. Outside of her work in the nonprofit sector, Savanah loves exploring all the dog-friendly spots with her French bulldog, Bonny.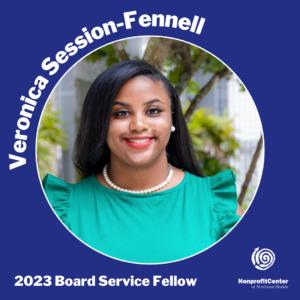 Veronica Session-Fennell is a Certified Nonprofit Professional and has been a passionate Human Service Administrator for six years. She currently serves as the Community Liaison at VyStar Credit Union where she helps make a positive difference in the communities the credit union serves. Veronica makes that impact through charitable programs and by supporting local organizations. She received her BA in Communication at Jacksonville University, MS in Human Services Administration at Saint Leo University and is currently perusing her Doctor of Public Administration at Liberty University. Veronica has served with several community organizations, including SISTUHS Inc., Jacksonville University's Black Alumni Network and the Jacksonville Police Athletic League. She is also a proud member of Pi Gamma Mu, International Honor Society of Social Sciences. In her spare time Veronica loves to write children's books. The Bria Book Collection is authored by Veronica and features a young African American character who covers significant topics for youth, like the importance of philanthropy and manifesting dreams.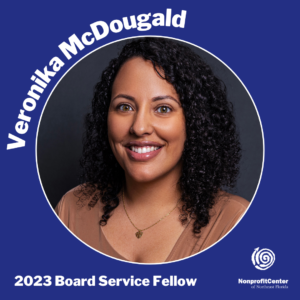 Veronika McDougald's core values include being present for others through relationship-building; leading on behalf of those who will come after her; and driving impact for all who have experienced marginalized gaps beyond their control. McDougald has served with City Year in many capacities over the last 12 years, beginning with her two AmeriCorps service years at City Year Columbia in 2011-2013. Since then, she has served with City Year Jacksonville as an Impact Manager at Northwestern Middle School; Impact Director of both Primary and Secondary School Partnerships; Corps Experience Director; and now, Managing Director of Impact. Throughout her tenure, she has ensured that the organization's AmeriCorps members felt supported as they propel student success in Duval County Public Schools. After earning her bachelor's degree from the University of Georgia in German and TESOL in 2011, she earned her Master's Degree in Nonprofit Management with a Human Services concentration from Northeastern University in 2018. She is also a graduate of LEAD (City Year's executive leadership program) and is a Leadership Jacksonville Next Generation (formerly known as the Collegiate Leadership\Experience) alumna. Veronika currently serves as a Guardian Ad Litem Volunteer Child Advocate who is committed to ensuring all children feel safe and secure. This Georgia native moved to Jacksonville in 2013, where she now lives with her husband, Lacy and their daughter, little Miss Marley.