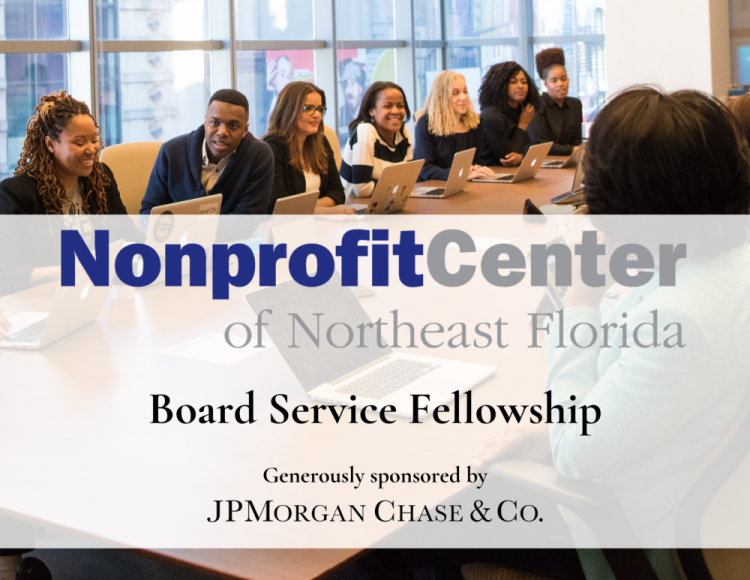 Nonprofit Center Board Service Fellowship
What is the Board Service Fellowship?
Behind every healthy and high-functioning nonprofit, there is a diverse and highly skilled Board of Directors.The Nonprofit Center Board Service Fellowship aims to build a talent pipeline that helps local nonprofits cultivate boards that reflect the diversity of their mission and their program participants. By offering this program, the Nonprofit Center will develop diverse and qualified candidates who are eager to become engaged in board service and will facilitate connections to nonprofit organizations through a matching process. 
Why does the Board Service Fellowship focus on diversity?
Finding and recruiting the right pool of board members plays a significant role in the sustainability of a nonprofit organization. Many organizations struggle to effectively recruit diverse pools of board members because they rely heavily on the social and professional networks of current board members to find new candidates.
Significant research shows that composing a diverse board is crucial for the long-term success of organizations. Diversity is often reduced to singular factors, such as race or ethnicity, but is much more complex and layered. A truly diverse board should contain not only a mix of racial and ethnic backgrounds, but also diversity of experience, ability, social identity, connection to community, leadership style, and diversity of thought and background. The Nonprofit Center believes that board diversity is a crucial issue for local nonprofits to address.
What happens in the Board Service Fellowship?
The program will consist of four mandatory virtual sessions (small breaks and lunch break provided):
Tuesday, October 26 - 9:30 a.m. - 2:00 p.m.
Tuesday, November 16 - 9:30 a.m. - 2:00 p.m.
Tuesday, January 11 - 9:30 a.m. - 2:00 p.m.
Tuesday, February 1 - 9:30 a.m. - 2:00 p.m.
There will be optional in-person networking events scheduled at times agreed upon by the cohort once finalized.
Meet the 2021 Board Service Fellows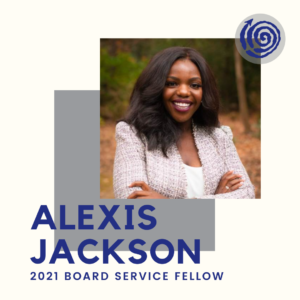 Alexis is a native of Birmingham, Alabama. She received a Bachelor of Science in Biomedical Sciences from Auburn University and a Master of Science in Healthcare Administration from the University of Alabama at Birmingham. Currently, Alexis serves as an Administrator at the Mayo Clinic in Jacksonville, Florida. In this role, Alexis is responsible for leading clinical, research, and operational teams to drive Mayo Clinic Florida's strategic initiatives for the Cancer Center. In her two years of living in Jacksonville, Alexis has had the privilege of serving on the board for the Leukemia & Lymphoma Society and as an Atlanta Circle member for the United Way foundation. In her spare time, Alexis enjoys trying new restaurants, traveling, and reading.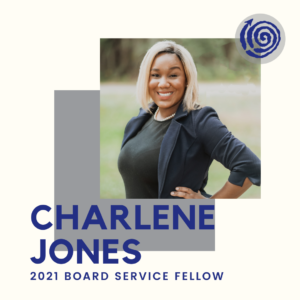 Charlene was born in Columbus, Ohio and raised in Lancaster California. She graduated high school in 2008 and enlisted into the Army as 27D in 2008 and served 6 years on active duty. While on active duty she earned my Bachelor's degree in Legal Studies from American Military University in 2015. Upon leaving the active component, she worked in the marketing field while earning my Master's in Healthcare Administration from Colorado State University. Currently, she is an account manager and project manager for Point Taken Communications, a marketing and public relations firm. Her husband is a firefighter for the City of Jacksonville. They share a three-year-old daughter named Aurora.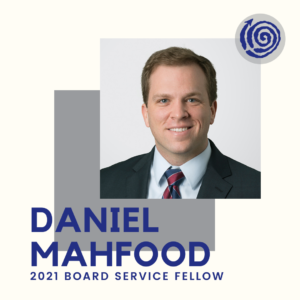 Daniel Mahfood has been an attorney in the Jacksonville area legal community since 2013, when he served as a law clerk to the Honorable Susan H. Black of the U.S. Court of Appeals for the Eleventh Circuit. He currently serves as senior counsel in the Jacksonville office of Holland & Knight LLP. As an attorney, Daniel has attempted to balance the business needs of his practice with the obligation to serve the community through pro bono contributions and support for legal service organizations. To that end, Daniel has represented indigent clients in appeals from excessive criminal sentences, represented low-income applicants in social security disability appeals, assisted elderly members of the community in executing appropriate end-of-life documents, among other efforts and initiatives. Outside his role as an attorney, Daniel has volunteered with the MaliVai Washington Youth Foundation and the Sulzbacher Center, and he has served on the community advisory board of a non-profit focused on promoting marriage and family stability. Daniel was born in Jamaica to a Jamaican father and American mother and has lived in the United States since he was nine years old.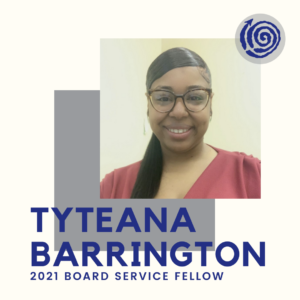 Tyteana Barrington has been a passionate Educator with Duval County Public Schools for five years in which she currently serves as a K-8 Dean of Students and Web Content Manager. Before moving into her leadership role, Tyteana taught 6-8 Social Studies. Tyteana received her BS in Sociology at Jacksonville University and her Masters of Education at Grand Canyon University. Tyteana is currently pursuing her Doctor of Education in Curriculum and Instruction at Liberty University. While in college, Tyteana served as a Jacksonville Sheriff's Office Intern and Assistant Principal Intern. She also recently served as a 2021 Majority Leaders Education Program Candidate and 2021 National Endowment of Humanities Summer Institute Candidate. In 2019, Tyteana opened her own business Encore Cosmetics which is geared towards self-care, self-acceptance, and social justice. Tyteana is a proud member of the Alpha Kappa Alpha Sorority, Incorporated and Kappa Delta Pi International Honor Society. Tyteana is a transformational Advocate for Equal Education, STEAM Education, and Youth Entrepreneurship. After finishing her doctoral degree, Tyteana would like to open her own Daycare Learning center and middle/high school Leadership Academy.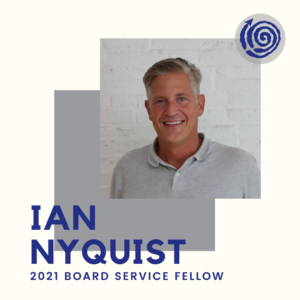 Ian Nyquist is the Marketing Manager for Refine USA, a medtech company in Jacksonville Beach. He holds a BLA from the University of Missouri and an MS in Journalism from the University of Kansas. Originally from Los Angeles, Ian moved to the First Coast in 2011 to be closer to his family and spends his free time running, surfing, and playing soccer. Prior to the pandemic, Ian travelled extensively, including to Angkor Wat and many sacred sites in Latin America. He has volunteered locally for Sulzbacher, Surfer's For Autism, Duval County Special Olympics, and also globally, most recently through social media consulting for Somo Africa, a start up business incubator in Kenya. Ian currently serves on the Board of Trustees for the Spring River School.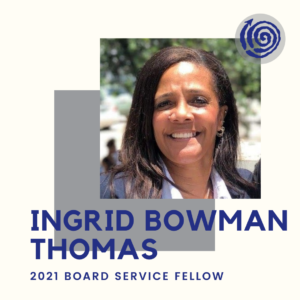 Ingrid Bowman Thomas is Development Director for the Police Athletic League of Jacksonville (JaxPAL). Ingrid is a well-respected juvenile justice advocate, mentor, and parent educator. Ingrid is a much sought-after workshop facilitator and trainer with expertise in professional development, fund development, and business etiquette. Ingrid attended Tuskegee University and studied political science before graduating with a degree in business from the University of Phoenix. Ingrid is active in her community and is passionate about giving back through her volunteerism and advocacy. Ingrid is a staunch advocate for education, juvenile justice reform and helping in the fight against hunger and homelessness. Ingrid is currently a doctoral candidate at Walden University.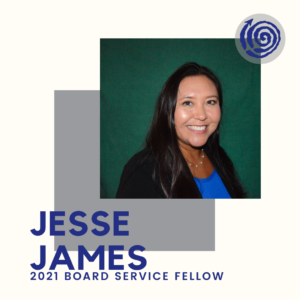 Jesse James has spent her life working with nonprofit organizations. She attended Davidson College in North Carolina and designed her own major in Community Development based on her volunteer work as a Bonner Scholar, a community service scholarship program. Her experiences include teaching English as a Foreign Language in multiple countries abroad, writing and teaching curriculum for workforce development, designing and facilitating training for nonprofit volunteer programs, grant-writing and reporting and managing a college readiness program for middle and high school students. She is the new Family Engagement Director at HabiJax (Habitat for Humanity of Jacksonville) and previously held the position of Hicks Program Manager and Community Engagement Manager. She is currently pursuing her Master's in Public Administration with a concentration in Nonprofit Management. Originally from Philadelphia, PA, she has lived in Jacksonville since 2015 and is passionate about reading, running, being a foodie and making the world a better place.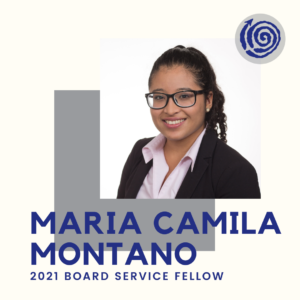 Maria is a first-generation college graduate born in Cali, Colombia. She graduated from Florida State University where she earned a Bachelors in Accounting and a Masters in Accounting. Maria is currently pursuing her Masters in Public Administration (MPA) from the University of North Florida. Currently, Maria works for the Florida Auditor General under the Legislative Branch where she conducts operational and financial audits in order to hold State government, universities, colleges and school districts accountable to the public. Her passions include learning about distinctive cultures and volunteering. Her passions have led me to volunteer in Peru, Ghana, Bolivia and within her local community.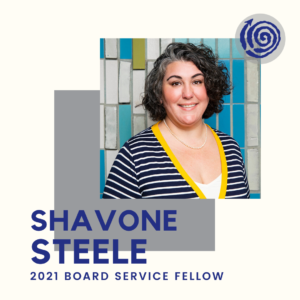 Shavone Steele is a longtime resident of Jacksonville, Florida and is passionate about inclusion, equity, and representation. Her work with local and national non-profit organizations has brought her in contact with people from all walks of life and talking to people is one of the best ways to get her out of the house! She is currently serving as the Program Operations Director for Moving the Margins: Artist-in-Residence, a program of Jacksonville Cultural Development Corp. Shavone is also the founder of Improvising Leadership which takes the lessons learned teaching and performing improv comedy to make teams and individuals great. For the past several years she has worked with The Bolles School's international residential students to help them navigate their new environment and culture using improv activities to break the ice. She also conducts leadership workshops for the See the Girl Leadership Council, part of the Delores Barr Weaver Policy Center. Formerly the Jane of All Trades at Generation W, Shavone gained exposure to the many issues facing women in Jacksonville and across the world. Her focus was with their Generation WOW program - a mentoring program for teen girls - that culminated with her work on the bestselling book WOWsdom! The Girl's Guide to the Positive and the Possible.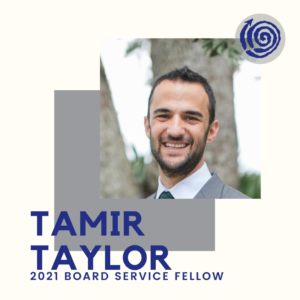 Tamir Taylor has spent the last 10 years managing affordable rental housing in New York. His experience with tenants receiving rental assistance has made him passionate about using affordable housing as a pathway towards financial stability. Tamir is also the founder of S7 Fund Ops, a consulting group focused on automating accounting processes for private equity funds. Tamir earned Bachelor's degrees in Mathematics and Economics from Emory University and is currently pursuing a Master's degree in Public Administration from the University of North Florida. Outside of work, Tamir enjoys exploring Jacksonville and spending time with his wife and their newborn daughter.
Are you a nonprofit organization interested in hosting a Board Service Fellow for 2021-2022 cohort?
Please complete the Interest Form here.