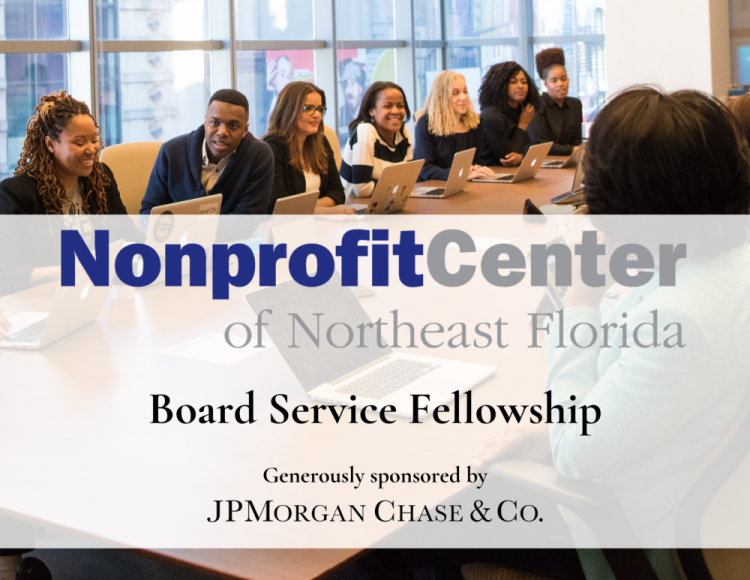 Nonprofit Center Board Service Fellowship
What is the Board Service Fellowship?
Behind every healthy and high-functioning nonprofit, there is a diverse and highly skilled Board of Directors.The Nonprofit Center Board Service Fellowship aims to build a talent pipeline that helps local nonprofits cultivate boards that reflect the diversity of their mission and their program participants. By offering this program, the Nonprofit Center will develop diverse and qualified candidates who are eager to become engaged in board service and will facilitate connections to nonprofit organizations through a matching process. 
Why does the Board Service Fellowship focus on diversity?
Finding and recruiting the right pool of board members plays a significant role in the sustainability of a nonprofit organization. Many organizations struggle to effectively recruit diverse pools of board members because they rely heavily on the social and professional networks of current board members to find new candidates.
Significant research shows that composing a diverse board is crucial for the long-term success of organizations. Diversity is often reduced to singular factors, such as race or ethnicity, but is much more complex and layered. A truly diverse board should contain not only a mix of racial and ethnic backgrounds, but also diversity of experience, ability, social identity, connection to community, leadership style, and diversity of thought and background. The Nonprofit Center believes that board diversity is a crucial issue for local nonprofits to address.
What happens in the Board Service Fellowship?
The program will consist of four mandatory virtual sessions (small breaks and lunch break provided):
Tuesday, October 26 - 9:30 a.m. - 2:00 p.m.
Tuesday, November 16 - 9:30 a.m. - 2:00 p.m.
Tuesday, January 11 - 9:30 a.m. - 2:00 p.m.
Tuesday, February 1 - 9:30 a.m. - 2:00 p.m.
There will be optional in-person networking events scheduled at times agreed upon by the cohort once finalized.
Applications for the 2021-2022 Cohort are now LIVE. Apply here today - applications are due by Friday, August 6, 2021.
Meet the 2020 Board Service Fellows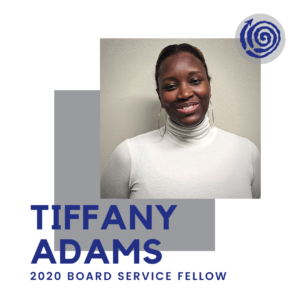 Board Service Fellow for Sanctuary on 8th Street 
Tiffany Adams currently serves as the Family Support Programs Manager with Family Promise of Jacksonville; growing into that role as she expanded the services and programs offered since she started in December 2014. Family Promise provides shelter, prevention and stabilization programs through innovative and resourceful ways to homeless families with children all while keeping their families together during their housing crisis. Tiffany is experienced in serving our local community through advocacy and direct service. From an AmeriCorps VISTA, case manager, and current role as volunteer board member with Ability Housing Inc. – she has used her unique perspective as a former client turned advocate for families in Jacksonville for the past 9 years.
Board Service Fellow for Family Foundations 
Born and raised in Orlando, Florida, Andrew Austin has been a Jacksonville resident for 10+ years, where he attended the University of North Florida (UNF). Upon graduation, he began his career at Mayo Clinic in Florida, where he's worked for more than seven years. While working, he earned his Master in Healthcare Administration and contributed to the development of Mayo Clinic in Florida's Lesbian, Gay, Bisexual, Transgender, Intersex (LGBTI) employee resource group in 2016, of which he served as Chair for two years. In his role, Andrew also supports Mayo's Office of Diversity and Inclusion, where he's strengthened their structure and provided guidance to other MERGs. In addition to serving in many other capacities, Andrew has been an active member of the LGBTQ+ community, including serving on Equality Florida's Steering Committee and as a mentor in the UNF LGBT Resource Center. He's also honored to be a part of a UNF Alumni Association Committee. When he's not working, Andrew enjoys spending time with family, friends, and his puppy with hearing and visual impairments, Finn.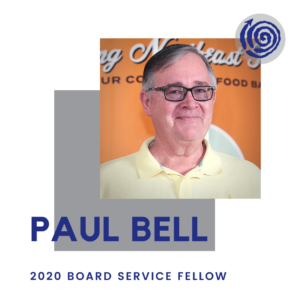 Board Service Fellow for Presbyterian Social Ministries 
Paul Bell is a passionate grant writer that cares deeply about hunger and has served as a writer, manager or director for nonprofit organizations for over ten years. Before starting with Feeding Northeast Florida in December 2018 as the Grants and Research Director, Paul worked at a number of organizations including Second Harvest North Florida, Hunger Fight, Habitat for Humanity of St. Johns County, and First Coast No More Homeless Pets. Prior to his nonprofit roles, Paul worked for Jacksonville based technology firms as a product marketing manager at Payformance; and, as vice president of marketing and operations at Visre Inc. He came to Florida in 1990 to take on the role of Alumni Director at The Bolles School. Earlier in his career, Paul also successfully ran his own employment recruiting firm, Paul Bell & Associates, with offices in West Orange and Livingston, New Jersey. A graduate of Drew University, Paul was a cartoonist and satirist for the Acorn, the weekly student newspaper. After graduating with his B.A, he went on to freelance with the Morristown Daily Record, a regional daily newspaper, illustrating news, features and cover stories for the weekend FYI section.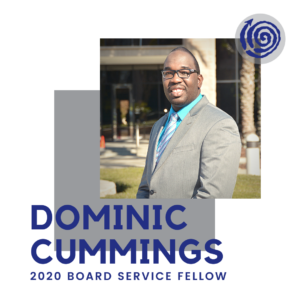 Board Service Fellow for 2nd Mile Ministries
Dominic Cummings is a proud alumnus of Mandarin High School, where he became involved in Communities in Schools of Jacksonville. Graduating from the University of North Florida, majoring in Finance and receiving a scholarship from CIS, Dominic has made quite a return on his investment. Currently, Dominic works as the Underwriting Team Lead for Fremont Bank and prior to that held a position at J.P. Morgan Chase Bank. Dominic serves as an advocate, volunteer and co-chair of the Alumni Leadership Advisory Committee. Dominic was recently inducted onto the CIS of Florida Board of Directors. Dominic is married and together they have 4 children. Dominic wants to one day start or partner with a non-profit such as CIS with the focus on academics, scholarships and mental health.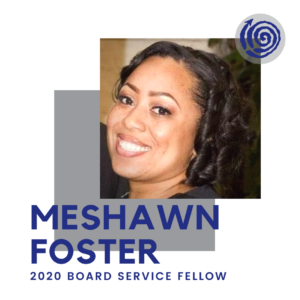 Board Service Fellow for Hope Haven
MeShawn L. Foster is a community advocate with over 20 years of diverse nonprofit experience. An alumna of Siena Heights University and Loyola University Chicago School of Law, MeShawn has used her education and corporate experience to provide operational, regulatory, and project management insight to the nonprofit entities where she has involvement. Past experience and titles include founder, initial board member, chair, task force member, practice council member and director. She remains engaged in outreach and service through community outreach, her active involvement in her sorority, Zeta Phi Beta Sorority, and her current role as fundraising chair with the youth nonprofit, One Team One Dream Inc. Her ongoing goal is to continuously learn the dynamics of successful outcomes in the nonprofit space while remaining an asset to any organization with which she is involved.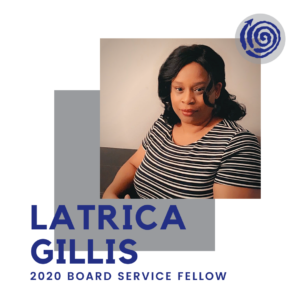 Board Service Fellow for Nonprofit Center of Northeast Florida
Latrica A. Gillis believes a fully lived life starts with a journey of exploration and opportunities within a support system. Her working background is in workforce education and development. She spends her days leading as an Early Learning Specialist with Episcopal Children's Services Inc. Her greatest impact happens when childcare center directors and teachers develop skills to influence the social-emotional wellbeing, and academic development in young children. Through community participation with Parents Who Lead and the Business Leadership Institute for Early Learning she advocates for systematic change for the early learning community. Fun times includes her 3 children; attending improv classes, learning something new, and daydreaming about her time in New York.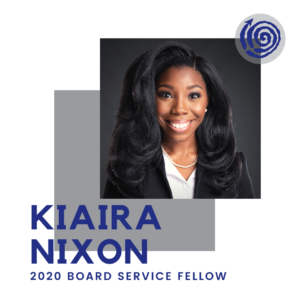 Board Service Fellow for Groundwork Jacksonville
Kiaira Nixon is a proud native of Jacksonville who has devoted her career to the advancement of state educational, urban development, and criminal justice policies. Her life in public service begin when she assisted her grandmother in neighborhood cleanups on the Eastside of Jacksonville. A graduate of Florida A&M University, Kiaira returned home with a goal to address issues that plague highly under-served communities across Jacksonville. Kiaira was recently hired at the Office of the State Attorney for the Fourth Judicial Circuit and is currently pursuing a Master's in Public Policy at Jacksonville University.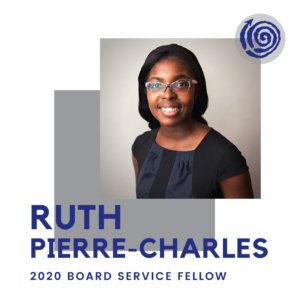 Board Service Fellow for Beaches Habitat for Humanity
Ruth Pierre-Charles is a first-generation Haitian American graduate from Stetson University, where she earned her Bachelor's degree in Political Science with minors in Communication, Sociology, and Media Studies. Ruth currently works as a Research & Program Associate for the Jessie Ball duPont Fund where she conducts research and program-related initiatives for the Fund. She is also an avid community leader who strives to provide others a helping hand. In her free time, Ruth loves volunteering, participating in educational seminars, and going on hikes.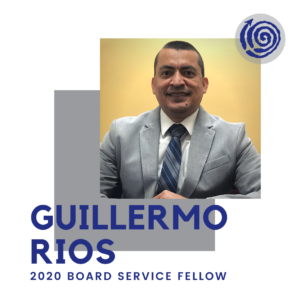 Board Service Fellow for Hubbard House
Guillermo Rios was born in Nicaragua and raised in Miami, FL. A proud veteran, he had the honor to serve in the United States Navy for eight years. After his time in the military, Guillermo joined Wells Fargo bank in 2013 and currently holds a branch manager position with the bank. Guillermo's passion is to help others and to be someone his kids are proud to call  their dad. Outside of work he enjoys watching NBA, College Football and NFL and plays chess any chance he gets.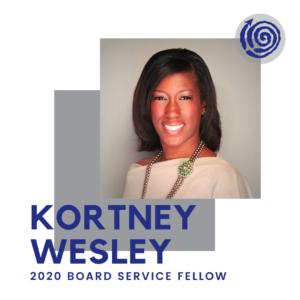 Board Service Fellow for MaliVai Washington Youth Foundation
Kortney Wesley serves as the District Director for Congressman Al Lawson, who represents Florida's Fifth Congressional District. Kortney is a primary liaison with state, federal and local governments, managing and directing all activities for the eight counties in the Congressional District. In her role, she maintains strong ties with local government representatives, elected officials, community leaders, and constituents, representing Congressmen Lawson both domestically and abroad. After completing her studies at Florida A&M University, earning a B.S. degree in Broadcast Journalism, Kortney started her career in TV news where she spent five years working in production and later producing newscasts for two CBS affiliates in Florida. She also worked in front of the camera, hosting two television shows in Jacksonville, FL. Outside of her work with her beloved sorority, Alpha Kappa Alpha, Kortney is active in her community, serving boards such as NAMI whose purpose is to enlighten the community on mental illness and working with the students at the College Reach Out Program.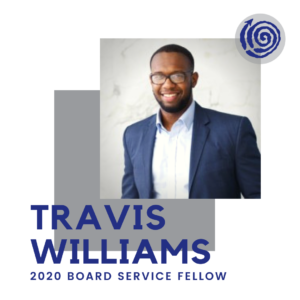 Board Service Fellow for ElderSource
Travis Williams is a proud native of Jacksonville, FL, where he resides with his wife and children. With a track record of success for delivering results, Travis professionally brings with him years of experience in the art of relationship building, articulating value, closing deals, and the skill of execution. From building a financial services practice from the ground up to consulting with a global nonprofit on building their local brand, Travis has seen his desire to serve first, turn into the ability to lead individuals, and organizations, towards their goals. He currently serves as Senior Director of Communications at the Kids Hope Alliance. Travis serves the community of Jacksonville primarily through local board work and volunteering, principally in areas focused on youth mentorship, services benefiting the less privileged and faith-based work.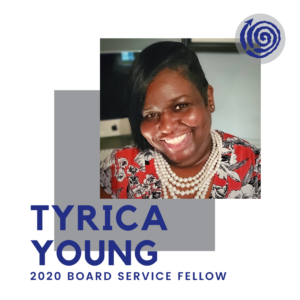 Board Service Fellow for Family Foundations
Tyrica Young is a native of Jacksonville, Florida. She graduated from William M. Raines and received her BS in English Education from the Florida State University, an MPA from Barry University, and an Educational Specialist degree from the University of West Florida. She is currently pursuing a doctorate  in Curriculum and Assessment at the University of West Florida. Mrs. Young is currently the Director of Out of School Time Grants with the Kids Hope Alliance. She has served as an English Language Arts teacher and Instructional Academic Coach for Duval County Public Schools. As an English Language Arts teacher, she was recognized as a 2005 Teacher of the Year for Highlands Middle School in Duval County. Mrs. Young has facilitated workshops at several national conferences. She is passionate about equity for all, student achievement and believes all students CAN learn.

Are you a nonprofit organization interested in hosting a Board Service Fellow for 2021-2022 cohort?
Please complete the Interest Form here.