Nonprofit Works 2022: Futures of the Sector
Jun 23, 2022 8:30AM—4:00PM
Location
Florida Blue Conference Center, 4800 Deerwood Campus Parkway, Jacksonville, FL 32246
Cost Nonprofit Center Members: $159, Non-Members: $259
Event Contact Callan Brown | Email
Categories Access to Capital, Ahead of the Curve Board Series, External Awareness and Advocacy, High-Performing Leadership Teams, Hot Topics and Advocacy Events, Organizational Learning and Measurement
Topics CEO/Executive Leadership, Data, Evaluation & Compliance, Development and Fundraising, Senior Leadership, Strategy and Organizational Development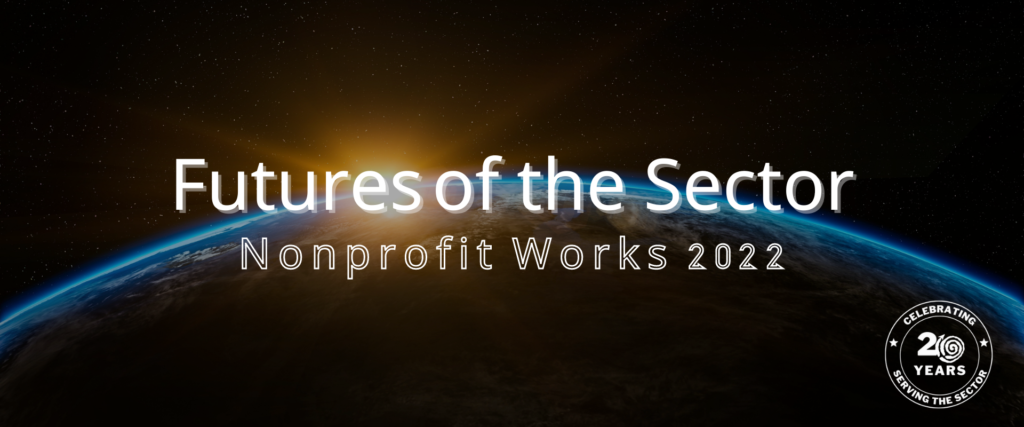 The Nonprofit Center invites you to join us at our 5th Annual Nonprofit Works conference at the Florida Blue Conference Center in Jacksonville, Florida on June 23, 2022. The theme this year is FUTURES OF THE SECTOR! We convene this year to envision a more vibrant and robust nonprofit sector that is marked by innovation, an abundance of resources, and investment into the people that drive our missions forward.
Our keynote speaker is Dr. S. Atyia Martin, CEO and Founder of All Aces, Inc., a consulting firm whose mission is to activate consciousness, catalyze critical thinking, and transform capabilities that advance racial equity and build resilience in organizations. Dr. Martin also serves as a Distinguished Senior Fellow at Northeastern University's Global Resilience Institute. In her previous role as the first Chief Resilience Officer for the City of Boston, Dr. Martin led the development and implementation of Boston's first resilience strategy which was the first one in the 100 Resilient Cities network to make racial equity, social justice, and social cohesion the foundation of building resilience across the city.
We are elated to bring Dr. Martin to Jacksonville this year to speak to attendees about what it means to cultivate resilient and innovative organizations and what the future of work in the nonprofit sector really looks like with diversity, inclusion, equity, and transformation at the core.
Discounted rates are available through May! Regular rates beginning June 1st.
Nonprofit Center Member rates:

Regular (Begins 6/1): $159.00

Non-Member rates:

Regular (Begins 6/1): $259.00
Visit our Nonprofit Works Conference Page to see the agenda and learn more!