*This workshop is part of the 2021 Grants Mini-Series: Design, Measure, and Fund the Change You Seek. To register for the full series, Click here.
In this workshop, you will define goals for your organization or program, develop a roadmap for it, and understand how to build and communicate your strategy based on evidence.  Whether you are starting with a long-standing initiative or a brand new idea for a program, this workshop will help take the mystery out of program design and logic models, and ensure that you have the tools you need to refine your strategy and incorporate all of your stakeholders into the design process. Next, you'll be ready for Part 2 (Developing a Measurement & Evaluation Plan) and Part 3 (The 3Rs of Grants).
The Nonprofit Center believes that Organizational Learning and Measurement is one of the four key elements of an effective, sustainable and adaptable organization. To learn more about The Nonprofit Center's Stronger Nonprofits Framework, click here. 
Join the Nonprofit Center's Senior Director of Strategic Initiatives and Evaluation, Deirdre Conner, for this interactive workshop!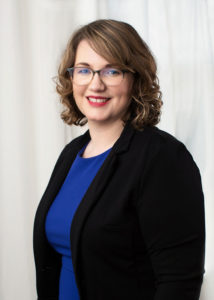 About Deirdre: Deirdre Conner joined the Nonprofit Center of Northeast Florida in 2017 as Senior Director of Strategic Initiatives and Evaluation, leading program, research, and consulting planning and supervises the successful execution and evaluation of these and other member resources. She previously served as Advocacy & Communications Director for the Jacksonville Public Education Fund, overseeing the organization's advocacy, communications and teacher leadership initiatives.
Prior to her career in nonprofits, she spent nearly decade as a print journalist. As a staff writer for The Florida Times-Union, she covered a broad range of issues, including nonprofits, urban and suburban affairs, education, demographics and race relations. Before moving to Jacksonville in 2007, Deirdre was a reporter for the Naples Daily News, writing about education and child welfare. Deirdre is a native of Miami, Florida, and earned a Bachelor's degree in Sociology and Anthropology from  Swarthmore College in Pennsylvania. She lives in Jacksonville with her husband, Larry Hannan, and their son, Rowan.