The Nonprofit Center believes in the good…
At our 20th Anniversary Celebration on October 20, the Nonprofit Center launched the Believe in the Good campaign, and at the centerpiece is a video highlighting and uplifting the nonprofit sector in Northeast Florida.
We asked the audience to let us know what good they believe in, and the answers by no surprise were inspiring to read.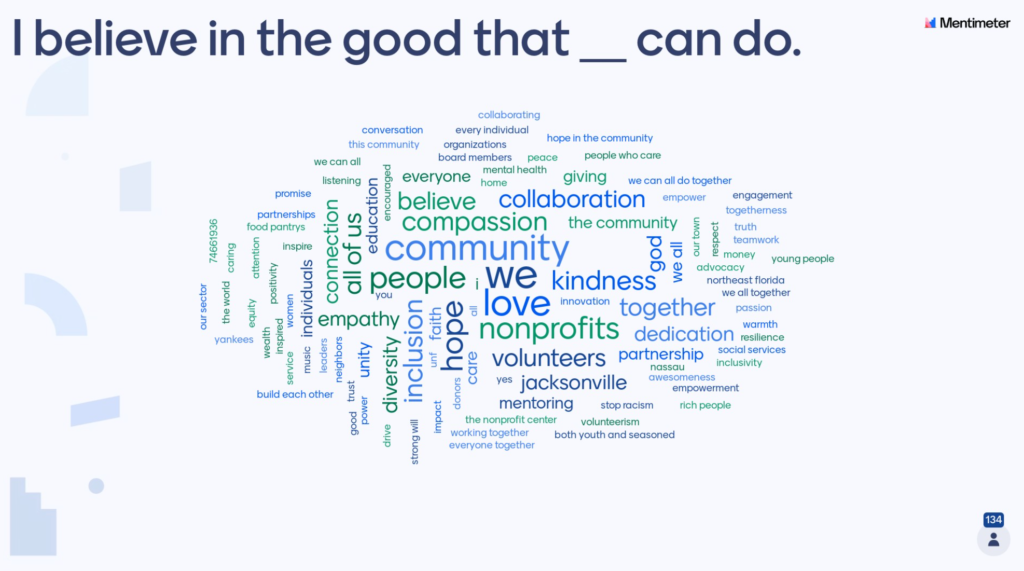 This campaign is an example of how we listen and learn from our members in the nonprofit sector:  Members have been telling us a lot since the pandemic began that we hear often is how fractious and divided our society is today, and how this impacts the workforce, policy, economics, and culture in our community and the nonprofit sector. The Believe in the Good campaign reminds our neighbors, staff, donors, volunteers, decision-makers, and ourselves that there's possibility and power in working together. Visit nonprofitctr.org/believe to view the full Believe in the Good campaign — we have resources and collateral that that local nonprofits can use in your communications and calls to action.
The nonprofit sector is an indispensable part of a healthy, diverse, and thriving community.  The Nonprofit Center sprang from this belief;  the founders of the Nonprofit Center explicitly drew a connection between a healthy independent sector and a healthy civic society.  One way to achieve a healthy independent sector was standing up an organization that worked solely to strengthen the local nonprofit sector, leading to the Nonprofit Center.
In 2012, Sherry Magill, one of the founders of the Nonprofit Center, gave voice to a passionate yet rational argument during a speech to nonprofits: "For democracy to flourish, we must recognize the individual's relationship to community, and we must fulfill our public responsibilities to the community… the nonprofit organizations in which you work play a major role in maintaining and preserving our experiment with self-government, with democracy."
Many of us think about our work in the sector regarding individual actions affecting individual lives: we mentor, counsel, feed, and heal. That work also contributes to an expansive nonprofit whole that undergirds a thriving community and healthy workforce.    
The Nonprofit Center works on both ends of the change spectrum, and in the middle, because that's what it takes to fulfill the promise to our founders, to live our values, to stay mission-centered, to be both strategic and unafraid, and to engage in policy where change can affect entire systems. We do it because we believe in the good that nonprofits do.
Do you believe in the good? Join us in sharing how at nonprofitctr.org/believe.