Nonprofit staff are Essential: Let's compensate them equitably
Nonprofits have never been more essential. From providing essential services such as access to food, housing, and healthcare, to serving youth and children, to delivering innovative cultural and community experiences, Northeast Florida nonprofits have kept their physical and virtual doors wide open since the first Safer At Home orders were announced.
In this time of heightened focus on issues of racial and social justice, equitable compensation emerges as both a key indicator of organizational values and an essential tool in attracting and retaining diverse talent.
Inequitable compensation structures can be revealed by comparing staff members holding the same job titles and responsibilities as well as looking at the compensation structure for all employees within an organization. While CEO compensation in nonprofit organizations is sometimes the subject of intense public scrutiny, equity demands that we focus on the lowest paid staff members of an organization as well as the highest paid. The frontline staff members delivering essential services are often among the lowest paid employees at any organization.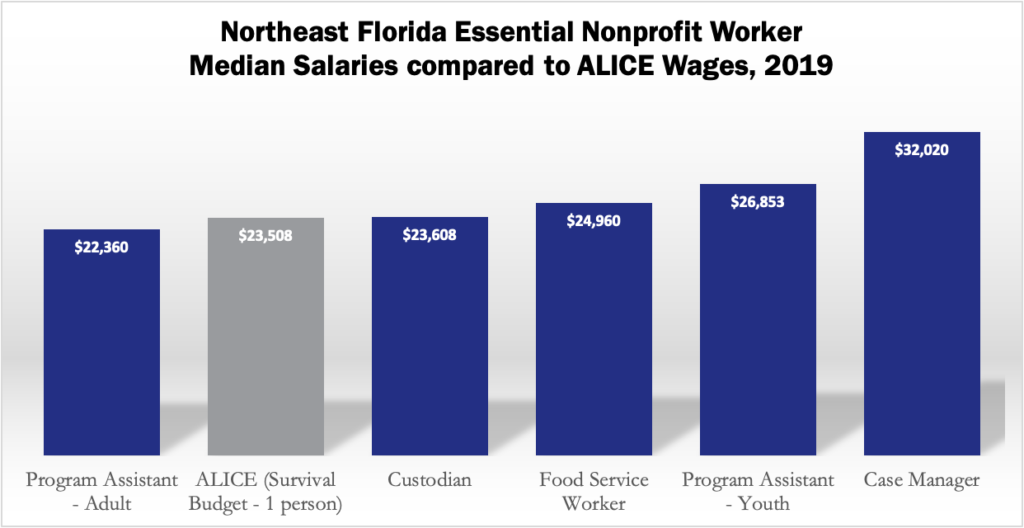 The median base pay for all non-executive employees represented in this survey is $35,000. Among men in non-executive positions, the median pay is $28,080. Among women in non-executive positions, the median pay is $35,360. Of the 93 jobs reported, 46 of them have overall median base pay levels of less than $40,000.
Decades of compensation research across sectors1 shows that perceived inequalities in compensation can lead to high turnover rates or employee dissatisfaction rates. When adding an equity lens to this research, organizations must ask questions such as:
Are racially diverse employees represented equitably at all levels of my organization? Promoted within all levels of my organization?
Which types of positions are staffed primarily by workers of color? By white workers?
Are people with other diverse identities represented equitably at all levels of my organization?
Which contracts or funding agreements have locked certain job roles into low base wages?
The nonprofit sector knows that economic mobility is one key to creating sustainable communities. As a sector, we must lift the economy and our own workers into thriving opportunity by examining and adjusting our own compensation practices. We have the opportunity to educate and advocate to local government and our funders by addressing the matter of equitable compensation with frank and open discussion.
Our 2020 Compensation and Benefits Report reveals the trends in compensation practices across more than 93 nonprofit roles at organizations of nearly every budget size and mission area. The report is available for free to Nonprofit Center members. Register to attend our free Compensation & Benefits Release Event on October 21 and log in to your member portal to download the report starting October 21.
This research was generously sponsored by:


1 SHRM Provides an excellent summary of the factors that influence compensation satisfaction here.